We are so pleased to launch our Community Voices Cardiff report!The report, launching on 26 May 2023 at the Grange Pavilion, is part of the Community Consultation for Quality of Life project running across the UK to test ways of doing consultation differently. After a year of conversations, events, workshops, an 'urban room' and an online 'value' map of Cardiff, we're sharing our learnings, reflections and recommendations for the many ways of doing consultation differently.
Join us at our report launch at the Grange Pavilion, Grangetown, Cardiff on Friday 26 May 11am-1pm https://communityvoicescardiffreportlaunch.eventbrite.co.uk
Community Voices Cardiff report ENG.pdf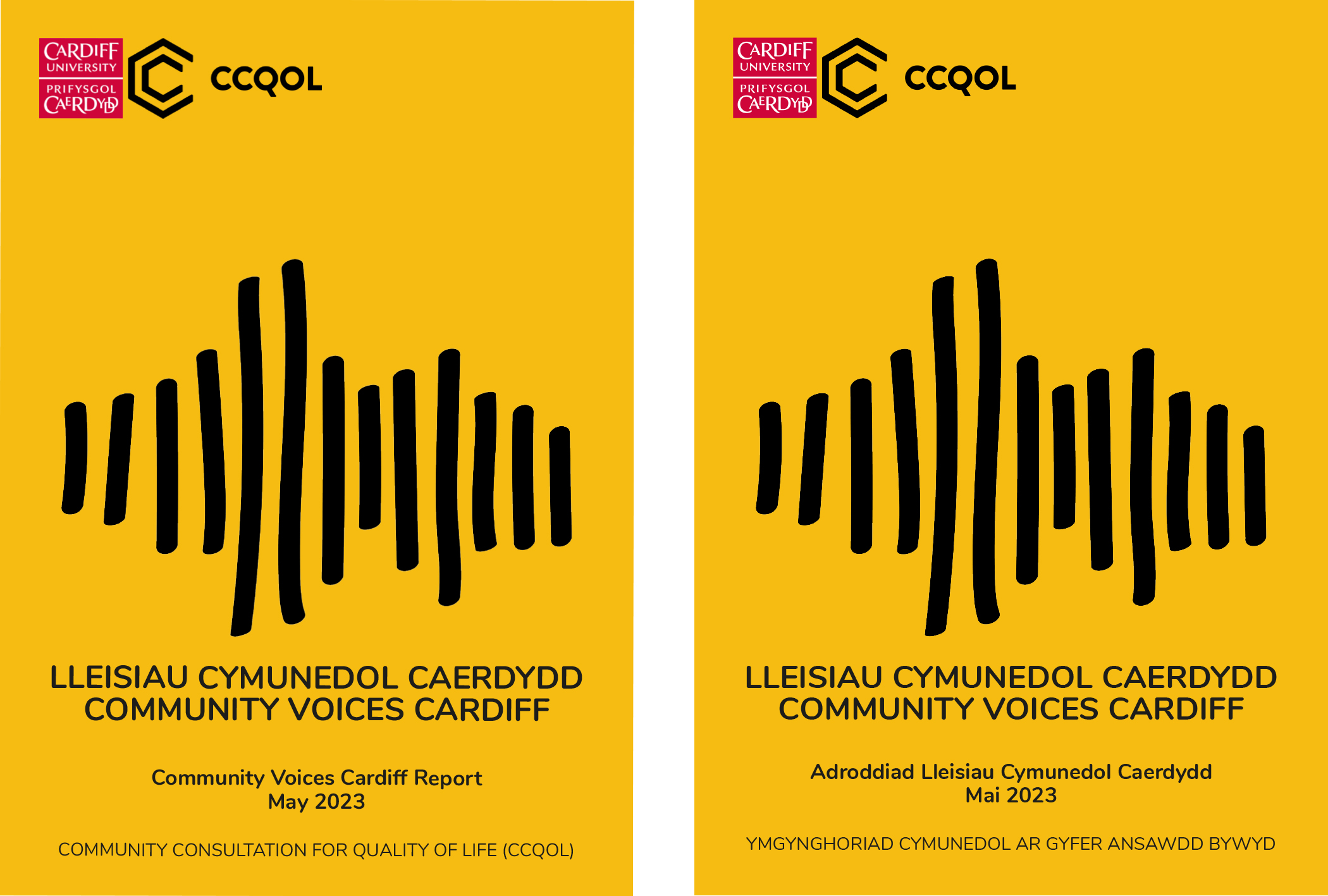 Rydym mor falch o lansio ein hadroddiad Lleisiau Cymunedol Caerdydd!Mae'r adroddiad, a lansiwyd ar 26 Mai 2023 ym Mhafiliwn Grange, yn rhan o'r prosiect Ymgynghori Cymunedol ar gyfer Ansawdd Bywyd sy'n rhedeg ledled y DU i brofi ffyrdd o wneud ymgynghoriad yn wahanol. Ar ôl blwyddyn o sgyrsiau, digwyddiadau, gweithdai, 'ystafell drefol' a map 'gwerth' ar-lein o Gaerdydd, rydym yn rhannu'r hyn rydym wedi'i ddysgu, ein myfyrdodau ac argymhellion ar gyfer y sawl ffordd o gynnal ymgynghoriadau mewn ffyrdd gwahanol.
Community Voices Cardiff report ENG.pdfYmunwch â ni yn lansiad ein hadroddiad ym Mhafiliwn Grange, Grangetown, Caerdydd ddydd Gwener 26 Mai 11am-1pm https://communityvoicescardiffreportlaunch.eventbrite.co.uk
Community Voices Cardiff report CYM.pdf